FRIENDS OF SOUTH ASIA
presents...
---
Traveling Film
South Asia 2004
A festival of 19 compelling documentary films from Bangladesh, India, Nepal, and Pakistan.
March 12 - 21
Mission Cultural Center
2868 Mission Street
San Francisco, CA 94110
415-821-1155
March 26 - 28
India Community Center
555 Los Coches Street
Milpitas, CA 95035
408-934-1130
For further information, please visit http://ektaonline.org/tfsa
---
FRIENDS OF SOUTH ASIA (FOSA)
welcomes you to
Secularism & Democracy in India:
The Challenges Ahead
---
An Interactive Discussion
with
Dr. Asghar Ali Engineer
and
Dr. Angana Chatterji
Santa Clara Marriott
2700 Mission College Boulevard, Santa Clara, CA 95054
Saturday, Jan 24 2004
12:30 - 4:30 PM
12:30 - 1:30 - Reception & Lunch
1:30 - 4:30 - Discussion & Q&A
Tickets are $10 per person and can be purchased at the door.
Free Baby sitting.
Phone: (408) 219 1433
---
Co-Sponsored by:
Coalition against Communalism (CAC)
Friends of South Asia (FOSA)
South Asian Progressive Action Collective (SAPAC)
Non-Resident Indians for a Secular and Harmonious India (NRI-SAHI)
Indian Muslim Council (IMC)
Indian Muslim Relief Committee (IMRC)
---
Joint Celebrations of India and Pakistan's 57th Independence Day
---
Midnight Emancipation
A Midnight Candlelight Vigil
Celebrating 56 years of South Asian independence
Lytton Plaza (Downtown Palo Alto)
220 University Ave., Palo Alto CA. 94301
11:30 pm, August 14 to 00:30 am, August 15
A midnight candelight vigil, the attendees will consist of South Asians and others who cherish freedom and want to live in peace. The vigil will feature poetry readings, songs, music and fun under the twilight. So bring along your favorite poetry or musical instrument, and join us in this celebration!
---

Human Rights, Political Will
and the
Nuclear Shadow
Sunday, August 17th, 5.30pm
Assembly Room, Bechtel International Center,
Stanford University
(click for directions)

featuring

a screening of the documentary film
Pakistan and India: Under the Nuclear Shadow

and talks by


Dr. Pervez Hoodbhoy
Professor of Physics
Quaid-i-Azam University
Islamabad, Pakistan
Dr. Angana Chatterji
Professor, Cultural and Social Anthropology Program
California Institute of Integral Studies
San Francisco, California.


A retrospective on the 56 years of South Asian independence, a look at the deteriorating human rights situation, the fallouts of nuclear armament in the region, and the rise of fundamentalist forces, and political will (or lack thereof) for conflict resolution. Also, a look at causes for hope - the growth of grassroots level movements, the increasing demands for peace and resolution from people on both sides of the border. Featuring Dr. Pervez Hoodbhoy, a leading proponent of nuclear disarmament and an activist writer/speaker on education issues in Pakistan, and Dr. Angana Chatterji, who has been working with post-colonial social movements in India and internationally, towards enabling participatory democracy, and social and ecological justice.

The event is free and open to all. Seating is limited, please arrive early to ensure good seats. Refreshments will be served.
---


Our Kashmir

A Talk by
Ved Bhasin
President of Jammu Peace Committee
Founder Editor, Kashmir Times

Stanford University
Gates Computer Science Building, Room 104
Friday, August 1, 2003 7 pm


Berkeley
200 Wheeler Hall, University of California, Berkeley
Saturday, August 2, 2003 4:30 pm
Organized by
Friends of South Asia
together with
Nautilus Institute, Berkeley

FREE event; Seats first-come-first-served;Arrive early to get good seats.
---
A Seminar On

Human Rights in South Asia:
Persecution of the
Ahmadiyya Community
in Pakistan
June 22, 5 p.m.
Milpitas Library Community Hall

Details about this event...
---


With
Cultural And Social Anthropology (CASA)
Stanford University

War & Peace

a film by
Anand Patwardhan

Saturday, April 26, 2003. 6 pm

Stanford University
Annenburg Auditorium
(directions)

FREE screening; Seats first-come-first-served;Arrive early to get good seats.
---

Karvaan


a film by
Pankaj Butalia

Saturday, March 29, 2003. 6 to 8.30 pm

Stanford University
Gates Computer Science Building, Room 104

This event is open to all.. donations are optional.

Read details about this event...
---
Twelve South Asian writers, poets, and songwriters entertained their audience with work in Hindi, Urdu, Punjabi and English at a first-of-its-kind event on Saturday, February 22, in Room 104 of the Gates Building at Stanford...Read more about this event.
---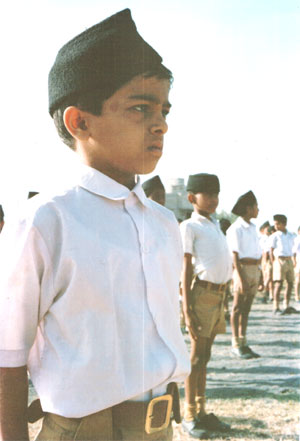 The Men
in The Tree

A new documentary
film by Lalit Vachani

Co-sponsored with
Dept. of Cultural & Social Anthropology and Dept. of Religious Studies, Stanford U.;
Dept. of Cultural & Social Anthropology, California Institute of Integral Studies
In early 1993, Lalit Vachani and the Wide Eye Film team completed a documentary film, The Boy in the Branch, for Channel 4 Television, U.K. Set at the headquarters of the RSS in Nagpur, the film was about the indoctrination of young Hindu boys by a branch of the RSS, the foremost Hindu fundamentalist organization in India. Eight years later, Vachani returned to Nagpur to meet the characters from his earlier film..
Read details about this event...
---

Aik Thee Nani
(A Granny for AII Seasons)

Video of Urdu/Hindi play followed by
Q&A with Pakistani Playwright
Shahid Nadeem




Oct 12th, Saturday, 5PM
Stanford University, Main Quad, Building 300, Room 300

---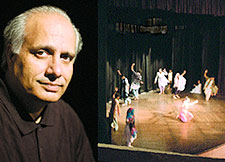 Theatre Without
Frontiers

Video clips and discussion with
Pakistani Playwright
Shahid Nadeem

Oct 13th, Sunday, 3-6 PM
UC Berkeley Valley Life Sciences Bldg, Room 2040 directions
Co-sponsored by EKTA, AHIMSA, and 3rd I

Shahid discussed the challenges and risks of running a theatre, which refuses to accept censorship by the State or the militants and about his experiences of taking his plays to India and Bangladesh. He will also refer to his work for Pakistan television and Zee News.
Shahid and his theatre group have been in the forefront of the movement to develop peoples to people links between peoples of Pakistan and India. He has spoken publicly and defiantly against Pakistani Establishment's lack of interest in promoting peaceful settlement of disputes with India. His group is the only theatre group, which has traveled to and performed in India, and also invited Indian Theatre experts and activists to Pakistan.